Suction and Discharge Valves are critical components for the performance and reliability of reciprocating compressors. Their floating internals realize continuous opening and closing cycles, reaching up to 1.5 million per day in compressors that operate at 1,000 rpm. Should the occurring operational dynamics be not ideal, these parts will be subject to premature breakage, leading to valve failure. According to several studies, over a third of the reciprocating compressors non-programmed stops are related to valve problems.
Valve projects consider an ample array of advanced thermoplastics and special steels.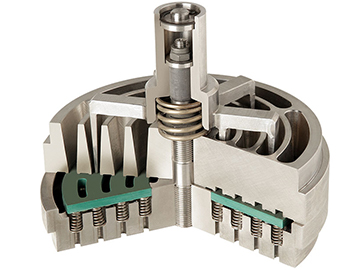 SELCO DIFFERENTIALS
Selco valves are recognized by their performance and reliability in many industries. They are resistant to high temperatures and pressures, as well as to different acidity and humidity conditions.
The company holds know-how on valve performing calculations. Efficiency under different compressor operational conditions is foreseen during the project development. The sealing components movement is simulated thus allowing the attainment of diagrams of pressure-volume, load and power losses, gas passage speeds and of impact, as well as isentropic and volumetric efficiencies.
Valve projects consider an ample array of last generation thermoplastics and special steels.
Selco's portfolio of exclusive projects includes Sc-Disc, Sc-Convex, Sc-Plus, Sc-Convert, Sc-Modular, Sc-VR and Sc-Trust. The company also supplies any existing valve models.
---
IMAGE GALLERY