Reciprocating compressors use Compression Rings to seal gases in their compression chamber. These components are critical and require high performance and long lifespan, for their sealing efficacy is essential to the compressor performance.
Guide Rings guide the piston movement inside the cylinder. They are important components since project errors may cause piston wear onto the cylinder liner, with consequent damage to the compressor.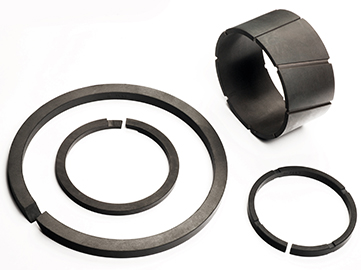 SELCO DIFFERENTIALS
Selco holds knowledge of the processing and sintering of thermoplastic materials applicable to the production of sealing components for reciprocating compressors. The internal production has as advantages its total control, as well as traceability of raw materials.
The company uses a wide variety of thermoplastic materials (PTFEs with loads and PEEK), applicable to a variety of productive processes. Depending on material choices, the rings are adequate to operate at piston average speeds from up to 6m/s, maximum pressures of 350 bar, and at operational temperatures of up to 200°C (392°F). The rings support humid and dry gases over a diversity of molecular weights, contaminated or corrosive.
Selco supplies piston rings with diameters of up to 40" (1.016mm). The company manufacturing facilities are of adequate size, and equipped with numerically controlled machinery, thus assuring product quality.
Piston ring customized projects are developed for particularly complex applications, including cylinder conversions to oil free, to high pressures, and to specific problems.
---
IMAGE GALLERY