Packings (sealing elements) perform the dynamic seal of gases compressed inside the cylinder. They also direct waste and purge gases to safe areas, or back to the pipeline to be compressed again.
Packings are either primary or secondary (pre-packing). Primary ones are mounted on cylinders near the compression chamber, while secondaries are mounted on intermediate housings.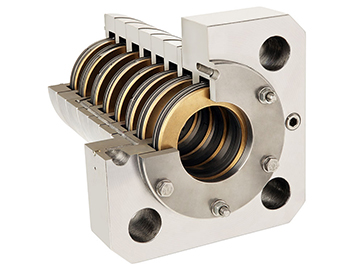 SELCO DIFFERENTIALS
A complete line of packings elements is designed and manufactured for reciprocating compressor's rod sealing systems, all done in conformity with specific (API618) norms, or as per client request. Conversions of existing packings to projects with purge control, for applications that require emissions control, or use of toxic or corrosive gases, are also developed by the company. All packings with auxiliary lubrication, cooling, vent, and other systems are subjected to final inspection and quality tests.
To meet variety of requirements, a diverse array of packing rings is made of materials specific to each application. The ring design takes too into consideration a compensation of wear caused by rod movement and temperature changes. The packings rings are made of different metallic and non-metallic materials, and also come in a variety of models for either standard or specific projects.
Modern machining centers are used in production processing, as well as equipments and fixtures specifically developed by the Selco's technical team, allowing the assurance of adequate sealing conditions.
Selco holds knowledge of the processing and sintering of thermoplastic materials applicable to the production of sealing components for reciprocating compressors. The internal production has as advantages its total control, as well as traceability of raw materials. The company uses a wide variety of thermoplastic materials (PTFEs with loads and PEEK), applicable to a variety of productive processes
---
IMAGE GALLERY